Five youth from ZAGNY participated in the recently concluded 5th World Zarathushti Youth Congress in Vancouver, Canada.
They took the opportunity to welcome the Zarathushti Youth from all over the world, to the next year's XVI North American Congress that ZAGNY shall host in New York.
Here each one of them writes in about their experiences at the Congress and what they came away with. Below are two photographs of these youth and a wonderful video montage by Zarina Bamji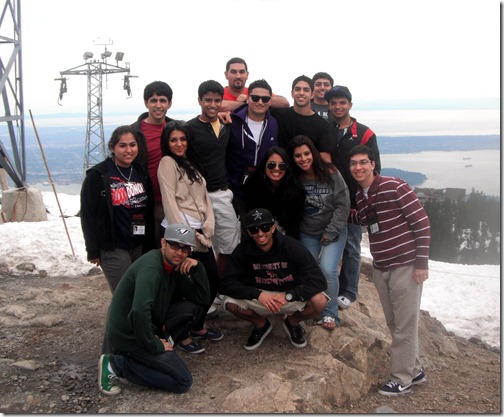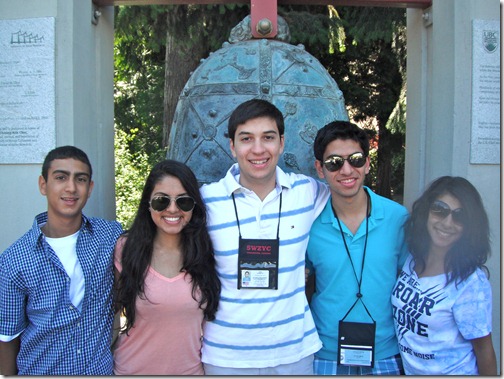 Karl Khambata writes:
Over a period of time, I have undergone many monumental transformations as a young Zoroastrian living in North America, but nothing can compare to my experience at the 2011 World Zoroastrian Youth Congress held in Vancouver from June 30th, 2011 to July 5th, 2011. Having attended this Congress, I left with more knowledge about our religion, a plethora of friends from all different backgrounds, and a strange yet strong sense of unity and confidence towards the next generation of young Zoroastrians. The opening ceremony was exciting and educational. Being a priest, I took part in the interactive Jashan ceremony along with thirteen other priests from all over the world – including Australia, Houston, Vancouver, Los Angeles, and even as far as Iran. This Jashan ceremony was unlike any other Jashan ceremony I have been in, since it had more of an educational setting than a religious one. Under the expert leadership and direction of Ervad Soli P. Dastur, the audience members and many of the priests themselves were able to learn more about the meaning and significance of the rituals preformed during a Jashan. One thing that most of the members of audience took away from this Jashan was the suggestion Ervad Soli P. Dastur made that instead of shaking hands with each other when we meet, we must instead use the ritual handclasp of the Hama Zor Greeting. During this greeting, both participants start by placing their right hand between the two hands of the other person and state "Hama Zor" and then must slowly slide them away and place their left hand between the hands of the other person and state "Hama Asho Bad". Together, these words translate to "Let us be united in righteousness". This is something that we can definitely implement at ZAGNY and is a great way to greet one another.
The Jashan ceremony also made a huge impact on the future of the religion in North America since it was the first time a women Mobedyar, Dr. Prava Namiranian, took part in a Jashan ceremony in North America. When first introduced, the audience went ballistic in cheer and praise. I later had the opportunity to speak to her which is when she informed me of the fact that she was one of eight women living in Iran who became priests. Her duties as a woman priest for the first year include teaching religious prayers to younger children, a job she says she does with great pride and privilege. She told me that she is still not allowed to touch the main Atash fire until the higher priests allow her to. When I asked if people were in support of this in Iran, she smiled and responded by saying that a large majority of people in Iran are in favor of having women priests. Over the course of the discussion, I asked the uncomfortable question that many may be wondering- what would a woman priest do during the time she has her period? She told me that all of the priests have signed contracts stating that they will not participate in any priestly ceremonies during that time. After the Jashan ceremony concluded, the keynote speaker, Fred Sarkari, gave a very inspirational and motivating talk. Lastly, entertainment was provided by a dance group from the Shiamak Davar Dance Studio. The evening was followed out by a night cruise around the harbor which ended with us gazing at fireworks shot into the sky to celebrate Canada Day, similar to America's Independence Day.
Each day started out with a series of lectures given by notable Zoroastrians and professors. The lecture topics ranged from how to prevent breast cancer among the Zoroastrian community, to what is more important, religious rituals or teachings. Each speaker provided insight on their respective topic and every time I left the auditorium, I felt more knowledgeable about our religion. One very interesting lecture given by Dr. Jenny Rose had a profound impact on me since she spoke about the influence of Zarathustra's teachings. Most of us know that the core principles and values of the United States are best exemplified in a few ancient documents such as the Declaration of Independence and the United States Constitution. These influential documents guide our politicians and shape the way Americans define themselves even today. What I don't think most of us know was that one well known Founding Father, Benjamin Franklin, whose impact on United States history is immeasurable, was known to be reading the Zend-Avesta, which means "interpretation of the Avesta" while he was, along with other Founding Fathers, drafting the United States Constitution. As Dr. Jenny Rose mentioned in her lecture, this begs the question of to what extent did Zarathustra's writings influence the creation of the United States of America and our policies today? After Dr. Rose conveyed this, many audience members, including myself, were in complete shock and bewilderment. Never before had it occurred to me that our religion could have so much influence on America, and the world as we know it. Other lectures revolved around passionate Zoroastrians succeeding in their respective fields, panelists talking about their own religious organizations, and the Zoroastrian diaspora. One new and developing organization located in Mumbai is called ZYNG which stands for Zoroastrian Youth for the Next Generation. This group was launched in December 2009 and in its short lifespan has been able to recruit over 2500 active members from all around the world. The main purpose of this organization is to help foster a Parsi Irani Zoroastrian identity for the future. Over the last two years, they have been able to feed and clothe countless underprivileged Zarathushti's all around India, have launched an online social networking site, have brought young Zoroastrians together to religious ceremonies, and have even hosted a mega paintball fight in Mumbai which drew a huge crowd of Zoroastrians. During their brief presentation, they made it very evident that even one dollar can make a huge difference in someone's life. It is in our best interest to help donate to this organization since they are helping Zoroastrians all over India. After the lectures finished each day, there was always a fun evening activity planned for us. It was very entertaining to visit various locations such as the beach, the top of snowy Grouse Mountain, and the downtown harbor, etc.
There is no doubt that there was a lot of opportunity to socialize and interact with other fellow Zoroastrians on this trip. When I left for Vancouver, I felt that I would primarily mingle with the people from ZAGNY and the few friends I made in Houston, but over the course of this trip, I am glad to say that I met so many new people from all around the world. In the last few days of the trip, it seemed almost like we had become a big family, connected not only on a spiritual and religious level, but also as friends. The link between us might be based on the fact that we follow the same religion, but the continuance of our friendship lies in our wonderful personalities. In the weeks since, a Facebook group has been made in which all of the youth my age have been able to stay connected. The four of us here from ZAGNY were also able to convince many youngsters to come to the North American Zoroastrian Congress to be held in New York in August 2012.
As a member of the youth committee for the upcoming New York Congress, there are many things I have learned from the Vancouver Congress that could be useful in the planning and preparation for our Congress. Firstly, having knowledgeable and versatile speakers on a wide array of topics is something that we should not underestimate. Since all the speakers at the Vancouver Congress were amazing, there has been a high bar set which we must maintain, and if possible, exceed. Secondly, organization is key. Being organized is absolutely necessary to run a successful Congress. Logistics form an integral part of the planning process – lectures have to start and end on time, meal schedules must be adhered to, transportation cannot run late, etc. All of these things ran smoothly for the most part at Vancouver which is one of the reasons why people were able to enjoy themselves at the Congress.
I look forward to attending the next World Youth Congress in 2015 to be held in New Zealand and would like to recommend it to all fellow young Zoroastrians around the world who are interested in such community events.
Thanks,
~Karl Khambatta
Zarina Bamji writes
There are so many things I can say about the 5th Zoroastrian Youth Congress in Vancouver, Canada. Being the first Congress I have attended, I had no idea what to expect; I knew I would have a good time and make some new friends, but I had no idea this trip would have the big impact it did on my life after it was all over. I viewed this trip as another "first day of college" experience, where you meet some new people from around the globe and find common interests after talking for a while. This was a lot easier! The one big thing everyone had in common was that we are all Zoroastrians and we're all here for the same purpose. The moment I stepped off of the plane in Vancouver, I met Zoroastrians from places such as: New Zealand, London, and India.
Watching the opening ceremony also gave an insight into the difference between the Canadian way of living versus my own, the American way of living. I was extremely interested in the Jashan they had planned for us. Ervad Soli Dastur made it very easy to understand the full ceremony by having the young mobeds show us what to do, as well as having a power point slide to further explain what they are doing. Another part of the opening ceremony I enjoyed was the final dance numbers. They were very entertaining and well performed. Having the crowd involved also was a fantastic idea because everyone seemed to enjoy it.
The morning lectures to the eventful days and nights were a blast! I thoroughly enjoyed all of the speakers and the topics they discussed; all of the topics were different from the rest, which kept me interested from beginning to end. If I had to choose a favorite lecture, it would have to be "Doctors in the House" by Farah Shroff, Dr. Babak Kalantari, and Dr. Shirin Abadi. They gave a number of facts and statistics about the health of Zoroastrians in comparison to other cultures. Also, the youth in charge of the congress had a variety of ways to make the lectures more fun. In some of the first lectures, they performed a rap, "Where's Yo Head At." Not only was it funny, but they incorporated some facts about Zoroastrians, as well. The song is available on YouTube for anyone to watch.
During all of the days and nights, the youth running our Congress had planned various activities for all of us. My favorites were the Canada Day Cruise and Grouse Mountain. On both,
Found, bought hair reason we got to experience Vancouver's true beauty from different angles, one being from the water and looking up at the mountains and at the night skyline, and the other by looking straight down from the top of the mountains at the city of Vancouver. Aside from the scenic view, it gave us all an opportunity to really meet new people, which we definitely did!
Overall, I'd have to say that this was one of the best experiences of my life! I definitely plan on going to all future youth congresses and even world congresses. I'm more than ecstatic for the XVI North American Zarathushti Congress 2012 in New York and am very honored to be a part of the Social Committee! I hope we can do just as amazing, if not BETTER, than Vancouver!
Tina Dukandar writes
The 5th World Zoroastrian Youth Congress in Vancouver was one of the most interesting experiences I have had with many treasured memories and new lifelong friends. Being that it was my first time going to such a conference, I was pleasantly surprised how well all the events were streamlined. I could tell that the Conference took endless hours of planning for each and every detail. We got a taste of Canada during the Opening Ceremony by having the Canadian National Anthem sung and the First Nations Musqueam Band chanted a melodious Tribal Song.
The Interactive Jashan led by Ervad Soli Dastur was my favorite part of the Ceremony. He went step by step and revised the meaning of a Jashan ceremony. There was a slideshow playing in the background that helped the audience follow along. The theme of the Congress was "Building Bridges across Oceans" and Ervad Dastur effectively portrayed that message. He made the audience actively take part in the Jashan ceremony by having us greet in the "Hama Zor" way which means "Let us Be United". Additionally, he selected a few people in the audience to read the meanings of certain prayers and customs. The uniqueness of this Jashan was that he was very interactive with the audience and together had us recite the "Jasa Me Avangahe Mazda, Yatha Ahu Vairyo, and Ashem Vohu". The uniqueness of this Jashan was that for the first time I witnessed a Lady Mobed on the stage along with all the other Dasturs.
The next couple of days were the lectures and panel discussions in which we discussed current issues and ways to solve them. Many of the discussions engaged the audience to ask questions and enter into a conversation with the lecturers and panelists. This was particularly interesting as we could hear the opinions and view points from people across the world from either a conservative or liberal standpoint. Additionally, each day the Committee planned an activity or trip for us. From the Cruise to Grouse Mountain to the Beach to the Closing Ceremony, the organizers made sure we had fun with abundant fond memories. Dealing with around 550 Zarathushtis, I must say that the Conference went very smooth and the events were amazingly well-coordinated, and we all learned valuable lessons.
Overall I truly feel the Youth Congress was a success and I am anxiously looking forward to the next one in New Zealand in 2015. I would also like to thank ZAGNY for this great learning experience and giving me this opportunity to go to Vancouver and experience my very first Zoroastrian Youth Congress.
Sincerely,
Tina Dukandar
Neville Dusaj writes
The World Zoroastrian Youth Congress in Vancouver was truly an amazing experience. From the daily sessions and lectures to the activities and events held each evening, the organizers never allowed for a dull moment. Every morning, there would be several presentations and panels that discussed a variety of issues, ranging from Zoroastrians in American History to Zoroastrians' adaptations to our modern world. Each session provided a wealth of information and served as an eye-opening experience for all attendees, as discourse with so many other Zoroastrians is a rare occurrence. In the evenings, the event organizers offered us a true taste of Vancouver itself, taking us on a variety of trips ranging from hiking to a dinner cruise. These social events only furthered the types of interactions occurring during the morning sessions, as they allowed for connections and friendships to form amongst fellow Zarthushtis.
Overall, the Congress was an extraordinary event that was a lot of fun as well as a way to strengthen and inform the Zoroastrian youth population to – "keep strong as time moves on". If there was one issue that I felt could have been different, it would only be that the registration eligibility be lowered from the current 16-40 years to perhaps 16-30, as this was supposed to be a "youth" congress. Nevertheless I cannot wait for the next congress in 2015 in New Zealand!
Neville Dusaj
Adel Hodiwala writes
I was not sure what to expect going to the 2011 Zarathusti Youth congress.  Previously, I have only attended the Dubai World congress.  I expected a youth congress would be a bit different from the massive production seen in Dubai.  Luckily, the congress took place in the rather large campus of the University of B.C.  which contained all of the needed amenities that any of the attendees would have needed.
The first official day of the congress began with opening ceremonies in the main auditorium.  The opening ceremony was an eclectic mix guest lecturers, musicians, and dancers.  The congress was formatted the same way every day.  Mornings would start off with educational sessions that took place in the school's lecture hall, and afternoons would focus around a trip into surrounding Vancouver.  The majority of the speakers during the day were actual youth participants of the congress.  The lecturers varied from topics such as professional development and networking to experiences of North American born Parsis who had travelled to Iran.  The wide range and mix of speakers helped bring together a feeling of excitement and interest to all of those who attended.  The fact that many of the speakers were near my age served as a motivator to attend the early morning sessions every day.  This set up served as an interesting contrast to the typical speakers seen at most other congresses, who are interesting by their own right but, tend to sound rather repetitive and tedious after a full day of lectures.
The afternoon events varied day by day.  The organizers did a fantastic job of taking advantage of the beautiful surroundings of the campus and Vancouver.  A scavenger hunt was set up which allowed those who attended the opportunity to get to know each other and tour the enormous campus.  Personally, my favorite event was a trip to Grosse Mountain.  Grosse is a small but very scenic ski mountain which contained a few activities which allowed the congress attendees to enjoy the natural landscape Vancouver.  Many of the people that attended were entertained with a fast pace and humorous lumberjack show which included displays of tree climbing and log rolling.  After the show, many had the chance to walk around and ride the ski lifts or take pictures along the mountain side.  The last night of the congress was a formal gala event at a local banquet hall.
The organizers once again did a fantastic job of choosing a beautiful location for the event.  The night's entertainment mainly consisted of a live band and dancing.  My only major complaint during this night and through much of the event was that the food was not very good.  It was a sentiment that most people shared and, considering how much Parsis love to eat it should have been handled a bit better.  Aside from the events themselves, the most impressive part of the congress was the ability for such a large population of Zarathusti youth to come together under one commonality.  Due to the widespread distribution of Zarahustis throughout the world, it is often hard to be able to feel connected within the community.  Events like the youth congress allow us to get to know one another and help build the bonds that will bring our community closer together.  For this reason, it is both important and necessary that future congresses are successful to help keep the youth interested and motivated
Adel Hodiwala