ZAGNY and the XVI NAZC 2012 Committee are proud to announce Chef Jehangir Mehta of The Next Iron Chef runner up for 2010 and owner and chef of Mehtaphor and Graffiti will be offering a dining experience on Friday August 3rd at his restaurant, Mehtaphor.
Guests will be given a 3 course tasting menu of Jehangir's Patra ni-macchi, Dhansak, and rava for $45.00, (not including tax and gratuities)
Prior reservations are requested. Please call the restaurant directly at 212-542-9440 or reserve online: www.mehtaphornyc.com/reservations.html
If Friday is not an option for you, but you still would like to try Jehangir's cuisine, Chef Jehangir will donate 25% of the proceeds when ordering from the regular menu at Mehtaphor regardless of attendance at the congress from Friday, July 27-Sunday, August 5th. Please bring a copy of this flyer to the restaurant on the day of your meal. Coupon Code is: NAZC2012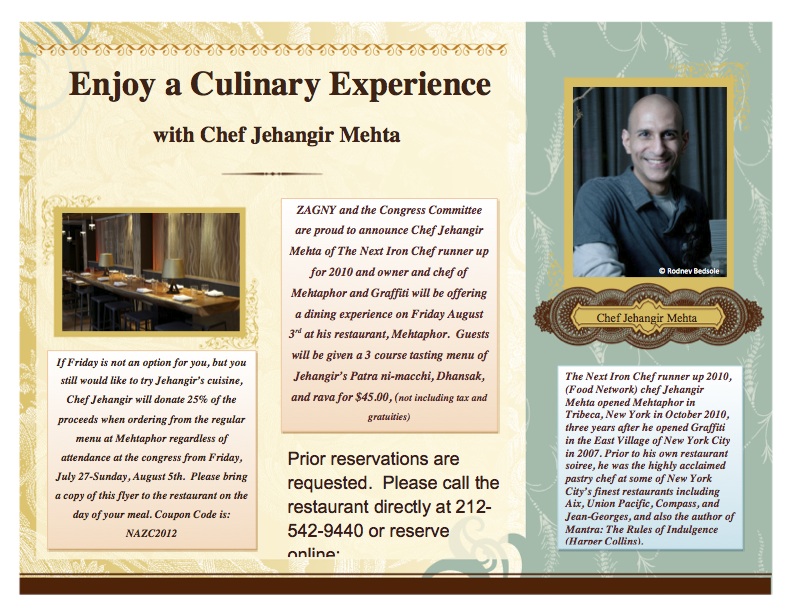 About Jehangir Mehta
The Next Iron Chef runner up 2010, (Food Network) chef Jehangir Mehta opened Mehtaphor in Tribeca, New York in October 2010, three years after he opened Graffiti in the East Village of New York City in 2007. Prior to his own restaurant soiree, he was the highly acclaimed pastry chef at some of New York City's finest restaurants including Aix, Union Pacific, Compass, and Jean-Georges, and also the author of Mantra: The Rules of Indulgence (Harper Collins).