The XVI NAZC 2012 is being held at the picturesque Hilton Rye Town hotel.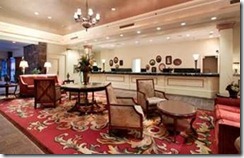 As part of the organizers agreement with the venue hotel, we have been able to get a large block of rooms allocated for Congress attendees.
The number of rooms at this discounted price are limited and we request all registered attendees to book your rooms early.
We have negotiated a rate of US$ 119 per day for a room with TWO DOUBLE BEDS or a room with a KING BED.
To avail of this offer and to book the room you can either book online or call the Hotel with our reservation code.
For online reservations the link for XVI NAZC 2012 is http://zagny.org/hilton
For booking over the phone call the Hilton Rye Brook room reservation department at 1-800-HILTONS and request the group rate for ZAGNY or give the unique group code ZAG
In order to confirm a room assignment the Hotel will require one night's deposit, refundable up to 72 hours in advance of the check-in date.
If you have any questions please email us at registration@zagny.org
We look forward to seeing you in August.