Local Attractions
New York City….The Gateway to the United States…Crossroads of the World….Empire City…..call it what you may, this is one of the greatest cities in the world. As participants to the 2012 North American Zarathushti Congress you will be in the most dynamic city in the world at one of the best times year round to visit it.
Iconic, hip, trendsetting and ever-changing, New York City lives up to its superlatives. Underneath the Big Apple's jagged skyscraper skyline, museums dazzle with the latest collections, celebrity chefs unveil their newest creations, and Broadway continues to stage elaborate, glittering shows. Downtown, fashionistas linger on the cobblestone streets of the Meatpacking District, while artists paint urban portraits in Union Square. Beyond the bustle, though, is a diverse population, taking the city in stride and friendlier than you were led to believe.
The Congress organizers have a series of events lined up in the city during the Congress and more information on this and other special events will be forthcoming on this page in the days and weeks ahead, leading up to the Congress.
Zarathushti Influences in New York City
Statues symbolizing ancient Persian philosophy, religion, and law:
Statue of Zarathushtra at NY Appellate Courthouse at Madison Sq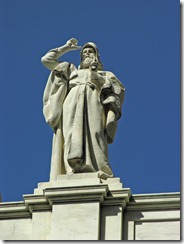 Were you aware that there is a Statue of Zarathushtra in New York? A life size marble statue of Zarathushtra by Edward C Potter (1857-1923) is on the cornice of New York Appellate Court Building in Madison Square Park located at 25th Street and Madison Avenue. It was placed there at some point in the 1950's to represent Persian Law. Edward C Potter was an American sculptor whose best work is the pair of marble lions known as the Fortitude Lions in front of the New York Public Library.
At the Brooklyn Museum
(Eastern Parkway facade; the southmost statue; other statues represent other world philosophies and religions), called "Persian Religion", by Edmond T. Quinn.
Noted online and in book, "An Architectural Guide to Brooklyn," Morrone & Iska, 2001.
Links: One | Two | Three (page from book noted above)

Mural At NY Supreme Court
Centre St / Foley Sq, a famous painted rotunda, "Law Through the Ages," by Attilio Pusterla, featuring a Persian lawgiver, among other ancient lawgivers.
Links: One | Two (proof: scroll to bottom of p 7 of this document)
Engraving Outside the Main Post Office (Farley Building)
On the famous building at 8th Ave and 33rd St, is engraved the oft-quoted "unofficial" Postal Service quote ("Neither snow nor rain nor heat nor gloom of night stays these couriers from the swift completion of their appointed rounds"). It's actually a Harvard professor's translation from ancient Greek, of Herodotus's description of the ancient Persian mounted postal system, circa 500 BC.
http://www.postalmuseum.si.edu/museum/1e_faqs.html#history10
Metropolitan Museum of Arts:
Hours:
Tuesday to Thursday: 9:30 am.– 5:30 pm
Friday and Saturday: 9:30 am – 9:00 pm
Sunday: 9:30 a.m.–5:30 pm
Closed Monday (except Holiday Mondays)
The Met Museum houses an impressive collection of Iranian, Central Asia, Arab and Turkish art. Among the collections, you will find exhibits relating to Iran and Central Asia and Safavid and Later Iran. Galleries 455 and 462 provide a chronological overview of the art of the Persian world, while underscoring its many connections with other cultures.
Gallery 455 displays material from the thirteenth to the early sixteenth century under the Mongol, Turkmen, Timurid, and Uzbek dynasties, as these arts came to flourish in such royal capitals as Tabriz, Samarkand, and Herat. Among the highlights are manuscript pages from fifteenth-century Herat, such as painted folios from the famous Assembly of the Birds or Mantiq-al-Tair, and other examples of the arts of the book. A chronological overview of the art of the Persian world, while underscoring its many connections with other cultures, continues in Gallery 462.
Gallery 462, the Sharmin and Bijan Mossavar-Rahmani Gallery, continues a chronological overview of the art of the Persian world, while underscoring its many connections with other cultures, from Gallery 455. It features masterpieces created in Tabriz and Isfahan under the imperial Safavid dynasty in the sixteenth and seventeenth centuries and its successors. Highlights include the celebrated mid-sixteenth-century Emperor's Carpet and the famous illustrations to the Book of Kings or Shahnama, displayed in specially designed cases for seated visitors to view.
Things to Do
Do what New Yorkers do: walk. Wander the angled tree-lined streets of Greenwich Village or the avenues of million-dollar townhouses on the Upper East Side. Art lovers should not miss the Warhols and Pollocks at MoMA, or the comprehensive and essential Metropolitan Museum of Art. Outdoors, mingle with joggers and skaters in Central Park or smell the blooming flowers at the Brooklyn Botanic Garden. Head to Battery Park for sunset views over the Hudson River, or watch the world below from the top of the Empire State Building.
Shopping
Couture designer shops line Madison Avenue, while the major department stores like Saks Fifth Avenue and Bloomingdale's anchor Fifth Avenue in Midtown. Cutting-edge designers show their wares in the Meatpacking District, while high-fashion boutiques and cool housewares peak out behind the cast-iron facades of SoHo. Rummage through vintage clothing boutiques on the Lower East Side or sift through knockoff sunglasses, purses and watches on crammed Canal Street in Chinatown. Head to Greenwich Village to browse music stores and boutique food shops.
Nightlife and Entertainment
Times Square's bright lights shine on elaborate stage productions in Broadway 's theaters. Dress up for a classical concert at Carnegie Hall or Lincoln Center. Lovers of soul head to Harlem's Apollo Theatre. The legendary Blue Note and Village Vanguard pack in jazz fans, while cutting-edge bars and clubs in Meatpacking District lure the beautiful people.
Restaurants and Dining
With small apartment kitchens and a culinary smorgasbord around every corner, it's no wonder New Yorkers eat out so much. Start in Chinatown for steaming Cantonese noodles or indulge in juicy steak at Minetta Tavern or Peter Luger's. Mix with celebrities at a fusion spot in Chelsea or tuck into a steaming bowl of mussels at a cozy Greenwich Village bistro. If you're on the go, grab a slice of pizza or a bagel with a schmear of cream cheese. For cheap, good, ethnic eats, hop on the subway to Queens or Brooklyn.
For a complete and current coverage of New York City here are some links
General NYC Sites (attractions, museums, events/festivals and discounts)
http://www.goldstar.com/new-york/events
Sightseeing Tours
http://www.graylinenewyork.com/
Broadway Shows
Sports
http://newyork.yankees.mlb.com
Restaurants
Day Trips out of NYC
http://www.state.nj.us/nj/things/
Other Useful Information
Carmel Car Service phone number 1-212-666-6666 www.carmellimo.com
http://www.ndta.org/downloads/Transportation%20Options%20to%20the%20Hilton%20Rye%20Town.pdf
The New York City Travel Guide: New York Times